Palms Bet
Palms Bet is one of the youngest Bulgarian bookmakers around. The company started functioning online in 2018, offering sportsbooks and online casino experience. Despite its young age, Palms Bet managed to win itself a place at the market, earning the trust of many clients from Bulgaria and the world. In this review, we will discuss with you what Palms Bet can offer you at this moment. Let's go.
Some might say that Palms Bet is actually a rebranded company, and there's some truth in it. The bookmaker is the successor of the Bulgarian online casino company eCasino. This gave Palms Bet some solid foundation in terms of online casino experience, which is pretty obvious right now – they have a really well structured and functioning online casino.

Design and Structure
What we see after opening Palms Bet's website is that the design is pretty nice and easy to work with. There are some attractive dark colors which we found pleasant for the eyes. This review is being written during the COVID-19 pandemic, so because of the lack of sports events, we saw Palms Bet advertising a lot their casino experience. On their homepage, they have put some excellent bonus offers for the online casino, which we will discuss further in this review.
Registration at Palms Bet
The registration process at Palms Bet goes smoothly. If you're over 18-years old, and you agree with the terms of use, the process of registration is relatively easy. What you must do first is choose your username and password, and put your email in the registration form. Just like any other bookie, Palms Bet would like you to put some personal data. They will also want you to confirm your age. Try to remember your secret question and answer as well because they would come handy if you forget your username or password.
Verification
If you want to withdraw the money you've won, sooner or later, you would have to confirm your identity and verify your account. You can easily do it by uploading your ID to Palms Bet's system. Don't worry about your personal data because the law protects you. The company can't use your data for any wrongdoing whatsoever.
Sportsbooks at Palms Bet
Despite being an online casino company before being rebranded, Palms Bet pays a lot of attention to sportsbooks as well. In order to fully satisfy its customers, Palms Bet offers a substantial catalog of different sports and leagues to bet on. You can easily find a lot of football, basketball, tennis, volleyball and boxing events to bet on, while the e-sports and the virtual sports are also making the company's sportsbooks section looking solid.
Of course, football remains the leading sport at Palms Bet's sportsbooks section. The bookie offers a lot of different leagues and competitions to choose from, so it'd be easier for you to use the menu on the left to navigate faster and easier. What we saw is that Palms Bet offers a rich choice of markets for the most significant football events as well. Obviously, you can find the world's biggest football leagues at Palms Bet's sportsbooks section, but the bookmaker is covering some lesser leagues as well.
Speaking about the different markets of the events, we believe you'd be satisfied. Except for the regular 1X2, Palms Bet is offering you a wide variety of different markets to use. Of course, the bigger the event is – the more markets there is. But yes – you could get creative and think out of the box with Palms Bet, too.
If you don't have a passion for football, but you love sports like tennis, basketball, MMA, or boxing – don't worry, Palms Bet got you covered. This bookie is trying to be as competitive as possible to the others, so you can find a lot of different sports to bet on there.
Live Betting at Palms Bet
As we just said – Palms Bet are trying to be competitive, so that's why they put a lot of attention to their platform for live betting. Their system is pretty nice, and it works well, so if live betting is your thing, you won't get disappointed by this bookie. If you have experience in this way of betting, you will get easily used to the platform. Open the live section of Palms Bet's website, and you will see all of the events you can bet on at this moment. Pick the event and the market you want, and it's going to be quickly added to your selection. You must be quick, though, because in live betting action is underway, so the result or the odds could change really fast.

The casino of Palms Bet
As we said, before being rebranded, Palms Bet was an online casino company. This fact allowed them to build an excellent casino section, which can offer you a lot of fun and different experiences. In the past, the company invested a lot of money and effort to perfect its service, so this gave Palms Bet a very good foundation to lean on. As an example, we can point out the number of different slots the casino is offering – it's impressive.
Palms Bet's casino games have demo versions, which is an excellent tool for the novice players to get used to them. If you don't have experience in casino games, we can recommend you to use the demo before playing with real money. That's how you will get to know the rules and the different specifics of the slot machines.
What's nice is that Palms Bet is not cheap for getting its casino catalog bigger and bigger. The Bulgarian brand relies on proven software companies like Amatic, Casino Technology, and EGT to deliver them some tremendous and well-working games.
Live Casino at Palms Bet
The live casino is offering a great experience to the passionate players, and Palms Bet are giving some serious effort in building a good one here. The company is trying to operate under the highest standards, providing its clients a chance to play with real dealers in front of them. You can be sure it would transfer the unique atmosphere of the land casino straight to your home.
Depending on your current budget, you can always choose from tables with lower and higher stakes. Palms Bet is offering us some classic games to choose from in its live casino – Blackjack, Roulette, Baccarat, and Casino Hold'em. Most of the time, you'd communicate with the dealers on English, but on rare occasions, there are different languages as well.
Bonuses at Palms Bet
Now let's talk about one of the best things the bookies can offer us – their bonuses. Palms Bet is having some special offers for its new and old clients, so let's take a look.
Bonus for new clients
There's nothing better than a kind and friendly "Welcome," right? At this moment, Palms Bet is offering an attractive bonus for its new clients. The company is offering a 100% starting bonus to 200 leva, which is generous. Of course, more experienced players know very well that all bets come with certain wagering requirements.
Before you can withdraw your bonus money, you must fulfill the bookie's wagering requirements. That's why you must carefully read what the requirements are. They are being written every time you accept a bonus from the bookie. In the case of Palms Bet's welcome bonus, you must play the bonus money plus the amount of your deposit five times before being able to withdraw it.
The welcome bonus in the casino section is identical, but with one significant difference – you must play the bonus money plus your deposit money 20 times before you can withdraw.
Recharge bonus
This is an offer you can see almost everywhere, so most likely, you know what this is about. The recharge bonus can be played only if you get a personal invitation by Palms Bet. Usually, the bookie is sending these personal invitations to its most loyal customers. Play a lot, and you can start getting these. The recharge bonus means that you can make a new deposit to your account, and you will get the same sum as a bonus.
Everyday bonus to 50 leva (Sportsbooks)
If you prefer the sportsbooks, most likely you'd be interested in this bonus. Palms Bet is allowing you to deposit 50 leva, and you'd get 50% of the sum as a bonus. There are wagering requirements as well, so read the terms.
Everyday bonus to 20 leva (Casino)
It's pretty much the same, but for the casino. Deposit 20 leva, and the bookie will add 50% of the sum to your account as a bonus. Once again, there are wagering requirements here.
Cash Out at Palms Bet
All good bookies have the cash out option in their sportsbooks sections, so Palms Bet are not an exception. If you love to use this tool, then have no fear – you can find it here as well.
Cash Out is the function that allows you to close a bet before the end of the event. In some cases, it could save you from losing the bet, successfully saving you some money to send back to your account. In some cases, you can do the cash out with some loss, but sometimes you can close your bets with a profit. It really depends on the situation.
Here's the moment for some criticism towards the bookie, though. Palms Bet's cash out function is still not working flawlessly, and you can see that. We found that it's not as quick as it should be, which could be crucial in a moment of live betting. And here's probably the most significant disadvantage in this case – it's not available on mobile devices. We hope that Palms Bet is going to fix this soon.
Palms Bet's odds
The odds are a crucial thing when we speak about bookies, so let's say a word or two about the situation at Palms Bet. We found that the Bulgarian bookmaker is not trying to hurt your earnings with lower odds. On the contrary, Palms Bet deserves some praise for their policy regarding this subject. The bookie's odds are pretty high. We found that Palms Bet just loves to give the favorites higher odds than some of its competitors. It's good news for the players who prefer to bet in stronger teams' favor.
Live broadcasting at Palms Bet
How we said in the beginning, Palms Bet are a young bookmaker, and they still have some work to do in order to be utterly competitive to the big brands in the business. One of the Bulgarian bookie's disadvantages is the fact that they do not support live broadcasting of sports events. This would be a disappointment for the bettors who love to watch sports events in real-time. We hope that in near future Palms Bet would introduce us to such a service on their platform.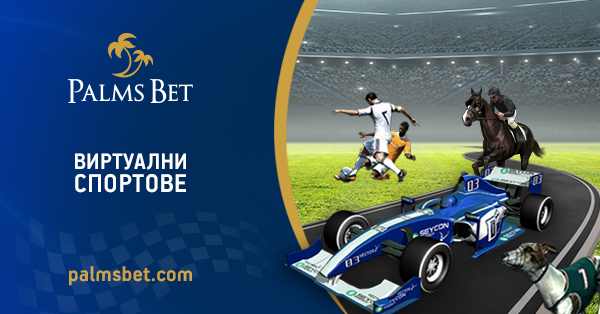 Virtual Sports at Palms Bet
Just like we said, this review was written in a moment when the COVID-19 pandemic stopped almost all sports around the planet. This is a good moment to take our attention on the so-called "virtual sports", which are getting more and more popular in recent years.
So, what's a "virtual sport"? This is an interesting service which most of the bookies are offering us right now. Simply put, virtual sports are sports events which are not existent in real life. Their outcomes are generated by software, and each one of the events is being played in a matter of just a few minutes. This allows you to try many different events in the case of an hour or two. Just don't forget that these are events dictated by the software, so you could hardly build any kind of a strategy regarding them. Many people are betting on virtual sports because of boredom when they simply don't have anything else to bet on at a particular moment.
Jackpot at Palms Bet
Who doesn't love a good jackpot? We can't think of such a person. The big jackpot is a thing that Palms Bet tries to use to secure new customers.
Palms Bet's jackpot is an opportunity which the bookie is offering to the football fans. What you must do is to try guessing the outcome of 15 games which the bookie is listing each week. In case of success, you can enjoy a huge prize of 500 000 leva. If you get it right with 14 of the matches, then you could get 10 000 leva from the bookie. The lowest stake you could do is just 1 lev. If you want to use some combinations, then your stake would be higher, of course.
Palms Bet's Fantasy League
Fantasy leagues are incredibly popular among football fans, so Palms Bet got the clever idea to introduce one to their clients, too. What you must know though, is that it's entirely based on the Bulgarian football league – a fact which could hardly convince foreign bettors to join.
For the most loyal customers
Palms Bet appreciates its most loyal customers, so the Bulgarian bookie has a special program for rewarding loyalty and consistency. All of the players have the opportunity to add points to their accounts each time they bet, no matter if it's sportsbooks or casino. Under certain terms, these points could be exchanged for different vouchers and bonuses. If you manage to climb higher at Palms Bet's loyalty program, then you could be sure you would get some nice gifts.
Deposit and withdrawal of money at Palms Bet
At this moment Palms Bet is offering a few different options for you to deposit or withdraw money to and from your account. They go like this:
Bank wire
Debit or credit card
Epay.bg
Easypay
Cashterminal
Be aware that if you choose the bank wire, then you'd have to wait a few days for your deposit to be completed. All other options offer a quick deposit in terms of seconds.
Palms Bet on your mobile devices
At this moment Palms Bet does not have an app you can download, but the website's responsive design is good enough to serve you on a mobile device. We tried it, and we don't have any serious complaints to make.
Support for customers
No business can really survive without a proper service for customers, so Palms Bet are trying to give their clients all the help they need. You can contact the support teams by email, live chat, telephone call, and website's contact form. No matter your problem is, ask anytime and you'd get help.
Verdict
Our final verdict is that Palms Bet is a young bookie who is continuously trying to get better, and it shows. There are some things they could improve, just like the absence of cash out at mobile devices, but in general, they are a good choice. We think you won't get disappointed if you choose them.